Why donate crypto?
To help those who help others.
Through our innovative retail partnerships, MCS saves 600+ South Florida nonprofits more than $1.5 million dollars each year — dollars that are reinvested back into our community through each charity's programs.
Your gift in any amount helps us work with more charities so that they can spend more on helping our neighbors in need, and less on purchased goods. Make your cryptocurrency gift today!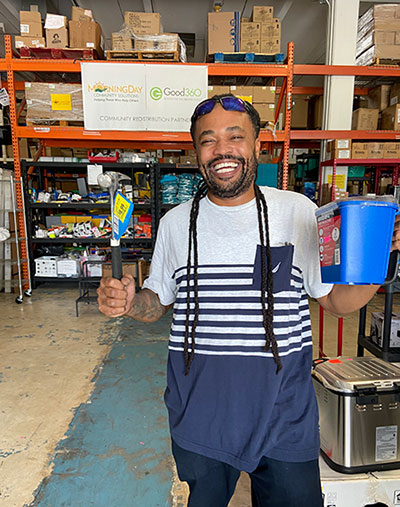 Benefits of Donating Crypto
Donating cryptocurrency directly to a 501c3 nonprofit is a tax efficient way to make an impact and save you money.
Cryptocurrency is classified as property by the IRS, which means it is typically the most tax efficient way to support your favorite cause (like MCS!). When donating crypto, you receive a tax deduction for the fair market value of the crypto, and avoid the capital gains tax you would have incurred if you had sold the crypto and then made a donation. That means you're able to donate more, as well as deduct more on your tax return. The difference? Sometimes more than 30%.
Curious to learn more? Talk to a crypto-savvy tax professional or connect with The Giving Block to get connected with one. If you want to learn more about how donating crypto can lower your taxes, check out thegivingblock.com/faq.
What can I donate?
Please only send the exact cryptocurrency listed on the blockchain mentioned on the widget. Do not send any other cryptocurrencies (including layer 2, wrapped tokens, NFTs or other ERC-20 tokens not listed) as these are unsupported and may result in loss of donation. For more info, click here.
We accept the following cryptocurrencies
0x (ZRX)
1inch (1INCH)
Aave (AAVE)
Alchemix (MIST)
Amp (AMP)
Ankr (ANKR)
ApeCoin (APE)
API3 (API3)
Audius (AUDIO)
Axie Infinity Shards (AXS)
Balancer (BAL)
Bancor Network Token (BNT)
BarnBridge (BOND)
Basic Attention Token (BAT)
Bitcoin (BTC)
Bitcoin Cash (BCH)
ChainLink (LINK)
Civic (CVC)
Compound (COMP)
Curve Dao Token (CRV)
Dai (DAI)
Decentraland (MANA)
DeFi Pulse Index (DPI)
Dogecoin (DOGE)
Dogelon Mars (ELON)
Enjin Coin (ENJ)
Ethereum (ETH)
Ethereum Name Service (ENS)
Fantom (FTM)
Fetch.ai (FET)
Filecoin (FIL)
Gala (GALA)
Gemini Dollar (GUSD)
Injective (INJ)
Keep3r (KP3R)
Kyber Network (KNC)
Lido (LDO)
Liquity (LQTY)
Liquity USD (LUSD)
Litecoin (LTC)
Livepeer (LPT)
Loopring (LRC)
Magic Internet Money (MIM)
Maker (MKR)
Maple Finance (MPL)
Mask Network (MASK)
Merit Circle (MC)
Mirror Protocol (MIR)
Moss Carbon Credit (MCO2)
Numeraire (NMR)
Orchid (OXT)
PAX Gold (PAXG)
Polygon (MATIC)
Quant (QNT)
Radicle (RAD)
Rally (RLY)
Raydium (RAY)
Ren (REN)
Render Token (RNDR)
Saber (SBR)
Shiba Inu (SHIB)
Skale (SKL)
Smooth Love Potion (SLP)
Solana (SOL)
Somnium Space (CUBE)
Spell Token (SPELL)
Storj (STORJ)
SushiSwap (SUSHI)
Synthetix (SNX)
Tezos (XTZ)
The Graph (GRT)
The Sandbox (SAND)
UMA (UMA)
Uniswap (UNI)
USD Coin (USD)
Wrapped Centrifuge (WCFG)
yearn.finance (YFI)
Zcash (ZEC)
Refund Policy
Your donation will immediately be deployed to help our neighbors in need. All cryptocurrency donations are final and refunds are not available. No goods, services or airdrops will be offered to donors in exchange for their cryptocurrency donations.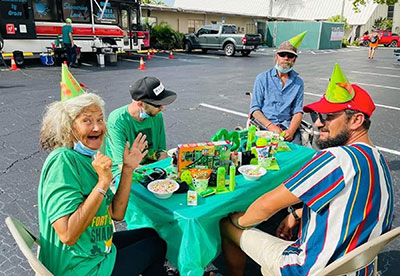 "MCS is a BIG part of our company. Every homeless guest we serve receives a brand new, clean set of clothing after they've finished with their shower — all clothes that we find in the Pompano Beach warehouse. We simply could not do what we do — and could NOT restore HUMAN DIGNITY — without Morningday!"
–  Jeanne Albaugh, Founder and CEO of Showering Love